VEKTOR-5
Sporting a truly upright 0-degree grip angle and built for accuracy in hunting, tactical and competitive shooting settings.
At a mere 2.0oz or less the Vektor-5 is perfect for light weight SASS and scout rifle builds yet has a stone solid overbuilt feeling useful for maneuvering the heaviest recoiling magnum caliber target rifles into position.
Of all the grips we have designed, this one is special to us. Our roots are with hunters and precision long range shooting. It's why we started building better grips for ARs in the first place. To help shooters hit the mark by connecting the mind with the rifle. All of our grips are made with this in mind but the VKTR-5 was designed from the ground up for what can be summed up in 3 words.
Perfect. Trigger. Feel.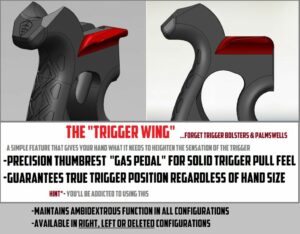 This grip fits any AR15 or AR10 and was also carefully crafted to fit precision rifle chassis and even crossbows that accept AR15 grips.
The Vektor-5 has the following options,
VKTR-5
FITS ANY AR15/AR10 lower. Has a unique 1911 Style beavertail and  "Trigger Wing" Thumbrest/Grip locating feature
VKTR-5B 
B is for "Bobtail" the beavertail of the grip is removed to fit rifle chassis like the Ruger 10/22, Savage rifle chassis, Cadex Defense, MDT, XLR chassis and many other aftermarket rifle chassis that foolishly use regular AR15 grips.
VKTR-5C
Crossbow optimized versions for Mission Sub-1 crossbows etc..(COMING SPRING 2023)
All models feature the "
Trigger Wing
". A unique thumb rest that doubles as a grip locating stop that ensures your hands alignment with the trigger. This allows you to lay down and shoot 1000 yards with a target style open palm grip as is often used in long range shooting while retaining total ambidextrous control and close quarters combat capability often overlooked in this categor
y of grip. 
We feel that this grip drastically changes the attitude and feel of the AR platform towards a lightweight specialized precision rifle. Perfect for 6.5 Grendel 6.8SPC 6ARC / and AR10s designed for longer range engagements.
We wanted to make a grip for precision ARs and custom bolt gun chassis because, ergonomically speaking, A2 style grips DO NOT BELONG ON PRECISION RIFLES. The Vektor-5 is the answer in weight savings, cost, customization and most importantly trigger pull ergonomics.
Our custom made 1gram (yes..that's correct. 1g) hollow titanium grip fastener can be added/built in for best mounting strength & weight savings in the whole dang industry. Available by custom order at futureforged@gmail.com